Lila Almendra
fixer in Brazil | filming production services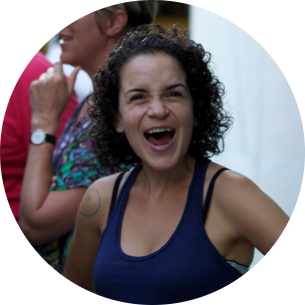 I have been working as a fixer, translator and editorial proofreader for over fifteen years. I have already collaborated in projects for Discovery Channel, MBC TV (Korea), Travel Channel, VTM TV (Belgium), Humentum, Inter-American Foundation, PHI Publishing, in addition to dozens of other companies. As a producer, I have experience in research and field production. I have been working also on the review and adaptation of philosophical books and academic translations, from English or Spanish into Portuguese.
As a fixer, I will take care of:​
budgets
travel arrangements
filming permissions
equipment rental
interviews and visits scheduling
locations, indoor and outdoor
local transportation and lodging in Brazil
translations in Portuguese, Spanish and English
Nicole Gormley
Producer and Director
Travel Channel

"Lila is one bad ass fixer! She's thoughtful, sees problems before they happen, thorough, and an incredibly hard worker. She's great with people and our crew loved her warm energy. She was also able to find us really fantastic local people to feature and work with on our project all without ever missing an opportunity to smile or ask how you were doing or needed anything. Highly recommend if you are coming to Brazil!"
Chris Horangic
Coordinating Producer, Naked & Afraid
Discovery Channel
"Lila was organized, understood our needs and always had a plan for every situation we encountered while filming an episode of Naked & Afraid for the Discovery Channel in Brazil.  I would recommend having her on your team if you plan to film in Brazil."
Julie Colpaert
Journalist
VTM channel
"My cameracrew and I worked with Lila during the World Cup in Rio last summer. I work as a journalist for the news in Belgium, but that summer I also made reports for a special program about the World Championship on our channel. We hired Lila as a fixer, but she was way more than a fixer. She had refreshing ideas to make my reports for the news. She helped me find the right persons to interview. She helped me find the way in the hectic city of Rio. Lila was always on time, we could always count on her.
Besides that, she's a great person to work with, kind, enthusiastic, patient. If I would ever come back to Brasil, I would immediately hire her again."
Sambuddha Mitra Mustafi
Founder/Director
Green Bench
"Lila is a producer par excellence, and just a great presence to have in your team. A natural team player, she always ensured that every member was well looked after. She is always ahead of the curve, has a great eye for the story, for logistical details and is super organized. Our Brazil schedule went like clockwork thanks to her. I would highly recommend her for any team. "
Kris Severson

Venue Producer – Rio Olympic Arena


Rio 2016 Sport Presentation Team



"
Lila was a delight to have on our team at ROA during the 2016 Rio Olympic Games. Her work as radio commentator producer was superb. A creative problem solver and always a positive attitude. I would welcome her back any time to one of my productions."
Nicolas Wasser
PhD candidate in Sociology



"
I would like to particularly highlight Mrs. Almendra's remarkable skills in Portuguese literacy. She proves facility with complex adaptations and analogies to the English original, presenting a pleasant and comprehensively clear syntax. (…) Additionally, I want to mention her very reliable commitment in working independently. As we work together on a strictly digital level via email, punctual meeting of sometimes tight deadlines is required. Mrs. Almendra has always thoroughly complied with these demands. As an additional asset, she repeatedly showed a high degree of individual initiative (…)"
Education
Master's degree in Social Sciences at the Post-graduation Program in Social Sciences in Development, Agriculture and Society, at UFRRJ – Universidade Federal Rural do Rio de Janeiro – 2014
Bachelor's degree in Social Communication, qualification in Cinema and Video, at UFF – Universidade Federal Fluminense – 2009
Trainee at the CODAC film archive; Arquivo Nacional – 2008
CNPq fellow for the research Culture and Participation of Black Youth at the Community of Bracuí, Youth Observatory/UFF – 2006/2007
Fellow for the research Seeds of the Memory, at the Youth Observatory/UFF – 2006/2007
Academic production
Volunteering
Volunteer at Aliança em Prol da APA da Pedra Branca – Caldas, MG, 2017/2018
Volunteer at Campanha Permanente contra os agrotóxicos e pela vida – RJ, 2013
Volunteer at Associação Beneficente Arcanjo Gabriel. Penedo – RJ, 2012
Extra courses
250 Hour Yoga Teacher Training Course, with Pedro Kupfer and Ângela Sundari – Itamambuca, SP, 2018
Certification in PMD Pro 1 (Project Management for Development – level 1), by Humentum – 2018
15 Hour Restorative Yoga Training Course, with Raquel Peres – SP, 2017
60 Hour Yoga for Kids Training Course, with Cris Pitanga – SP, 2016
200 Hour Yoga Alliance Certified Teacher Training Course, with David Lurey e Mirjam Wagner. Montanha Encantada – 2015
Online course Apoio à implementação do Programa de Educação Ambiental e Agricultura Familiar nos Territórios – 2014
Introduction to Biodynamic Agriculture – Penedo, RJ, 2013